Author Libby Weaver apologises over 'mongolism' in book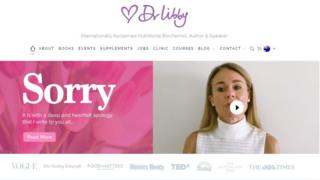 A bestselling author has recalled 20,000 copies of her new book, which used the term "mongolism" to describe Down's syndrome.
Celebrity nutritionist Libby Weaver apologised and said she was "mortified to have caused anyone any distress".
The Australian, who has written several bestselling books, said she had no idea the word was offensive and not correct.
The term "mongolism" was used until the 1980s. The medical term now used is Down's Syndrome or Trisomy 21.
Ms Weaver posted a video message on her website saying that she used the word in her latest book What Am I Supposed to Eat?, thinking it "was a current medically used word".
"It has since been brought to my attention it is a word that is used in a derogatory way and I am very, very sorry to have caused anyone any distress through this error, particularly children with Down Syndrome and their families," she said.
The author, who is based in Australia and New Zealand, added that people who had already bought a copy the book could return it for a refund, local media reported.
Teen with Down's syndrome's catwalk debut
A world without Down's syndrome?
Auckland Down Syndrome Association chairperson Natasha Gould told news website Stuff that the group's members were "dumb-founded and deeply offended" by the book's use of the word.
"People with Down's syndrome add a lot of value to our community, are loved deeply by their family and friends and the use of this term is hurtful to all," she said.
While most people have 23 pairs of chromosomes, people with Down's have an extra copy of chromosome 21, which means they develop differently and have varying levels of learning disability.
Down's was first classified in the 1860s by British physician John Lagdon Down, who used the term "mongoloid" for it.
In recent decades, the term was replaced by Down's syndrome as it was considered derogatory and offensive.