Sainsbury's profits fall 9% but sales rise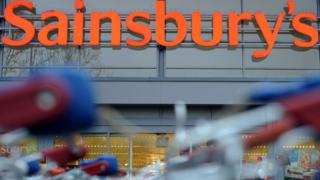 Sainsbury's has reported a 9% fall in half-year profits, but the decline was not as bad as expected and sales rose.
The UK's second largest supermarket chain said profits came in at £251m in the 28 weeks to the 23 September, while like-for-like sales excluding fuel went up by 1.6%.
It said the fall in profits was due to price cutting, wage cost inflation and the consolidation of Argos.
Chief executive Mike Coupe said he was "very pleased with progress".
The supermarket chain took over catalogue retailer Argos and Habitat last year in a £1.4bn deal.
In the past six months, Sainsbury's has opened a further 73 Argos concessions in its stores, bringing the total to 112. It plans to have 165 by Christmas.
Mr Coupe said: "We have delivered a good performance across the group in the last six months, with more customers choosing to shop at Sainsbury's in the first half than ever before. We are now three years into delivering our differentiated strategy and are seeing clear results."
Cost cutting plans
Sainsbury's is looking to make cost savings amid fierce competition from discounters and rising food costs.
It says it has exceeded its cost savings target and will have managed to have saved £540m over the three years to the end of the current financial year. It also plans to make a further £500m of savings during the next three years.
Mr Coupe said the chain was continuing to "focus on offering our customers great value, supported by our removal of multibuys".
"Customers can shop at Sainsbury's knowing they get good value every day without having to wait for products to be on promotion."
He said the company was working hard to cut costs and "limit the impact of price inflation on our customers."
Sainsbury's convenience stores saw an 8.2% increase in sales, while online rose by 7.2%. Sales of clothing were up by 6.8%.
The company said its full-year profit forecast remained "in line" with market expectations.