George Osborne to become editor of London Evening Standard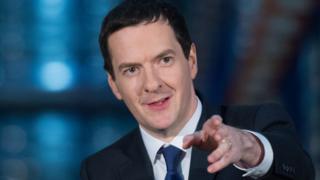 Former Chancellor George Osborne has been appointed editor of the London Evening Standard newspaper.
The Conservative MP will succeed Sarah Sands, who is leaving to become editor of the BBC's Today programme.
The BBC's media editor Amol Rajan said Mr Osborne intended to stay on as MP for Tatton, in Cheshire.
The paper said Mr Osborne, who was sacked as chancellor after Theresa May became prime minister in July, would edit it "four days a week".
The Standard's proprietor, Evgeny Lebedev, said Mr Osborne was "London through and through" and he was confident that the MP was "the right person to build on the fantastic legacy of Sarah Sands".
"I am proud to have an editor of such substance, who reinforces The Standard's standing and influence in London and whose political viewpoint – socially liberal and economically pragmatic – closely matches that of many of our readers," tweeted Mr Lebedev.
'Surprise'
The newspaper said its schedule would enable Mr Osborne to "continue to fulfil his other commitments, including as an MP; giving him the time to vote and contribute in Parliament in the afternoon after the paper has gone to print, and be in his constituency".
Rajan, a former editor of The Independent, which is also owned by Mr Lebedev, said the appointment was a "fantastic coup" for the newspaper but would "take a considerable amount of people by surprise".
He said it would be a "big challenge" for Mr Osborne to persuade his constituents in Cheshire that he could continue representing them.
'Fake news'
Patti Goddard, president of the Tatton Conservative Association, said it fully supported the former chancellor on his "exciting" career move, insisting it would not affect his reputation as a "hard-working" constituency MP.
Mr Osborne has been congratulated by London Mayor Sadiq Khan, who said he would be covering the "world's greatest city". But Labour MP Paul Flynn criticised what he said was the "revolving door" between government and the private sector.
He said efforts by the Advisory Committee on Business Appointments watchdog to stop former ministers from moving seamlessly into "lucrative" roles in other fields had proved "futile".
But former Tatton MP Martin Bell said his first reaction to the announcement was that it "sounds like fake news to me", suggesting on BBC Radio 5 Live that the politician would have to be "superman" to combine his various roles.
Since leaving frontline politics, the former chancellor has become a visiting fellow at a US university and an adviser to US fund manager BlackRock, for which he is being paid £650,000 for four days work a month.
Mr Osborne, who has been an MP since 2001 and was chancellor for six years will address staff at the newspaper later on Friday. It has a circulation of 850,000 to 900,000 copies a day, having become a free title in 2010.
Mr Osborne had ambitions to be a journalist as a young man. He failed to get a place on The Times' trainee scheme after graduating from Oxford University in 1992 and was briefly a freelance reporter on the Daily Telegraph's diary column.