General election 2017: Labour manifesto draft leaked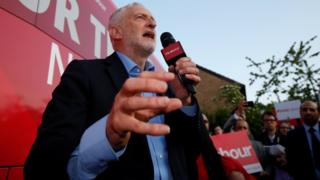 A draft of Labour's general election manifesto has been leaked, including plans to nationalise parts of the energy industry and scrap tuition fees.
The BBC has seen a copy of the document, which has not yet been formally signed off.
It contains policies on nationalising railways and renewing the Trident weapons system and suggests Labour will not leave the EU without a deal.
Labour would not comment on the leak but the Tories called it "a shambles"
According to the draft, Labour would:
Spend an extra £8bn on social care over the next Parliament
Refuse to make "false promises" on immigration
Stress that any leader should be "extremely cautious" about using Trident nuclear weapons, which leader Jeremy Corbyn opposes
Strengthen trade union rights – including increased unionisation across the workforce and repealing last year's Trade Union Act
Scrap the public sector pay cap
Ban so-called "zero hours" contracts
Increase income tax for the highest earning 5% to raise an extra £6bn for the NHS
Build at least 100,000 council and housing association houses a year
Reserve 4,000 homes for rough sleepers
On energy, Labour would have at least one publicly-owned supplier in every region of the country, with the government controlling the transmission and distribution grids.
The manifesto still has to be approved by around 80 Labour figures, including the shadow cabinet and the party's National Executive Committee.
A spokesman for Labour leader Jeremy Corbyn said: "We do not comment on leaks. We will announce our policies in our manifesto, which is our plan to transform Britain for the many, not the few."
A Conservative spokesman said: "This is a total shambles. Jeremy Corbyn's plans to unleash chaos on Britain have been revealed.
"The commitments in this dossier will rack up tens of billions of extra borrowing for our families and will put Brexit negotiations at risk. Jobs will be lost, families will be hit and our economic security damaged for a generation if Jeremy Corbyn and the coalition of chaos are ever let anywhere near the keys to Downing Street."
The draft was initially leaked to the Mirror and the Daily Telegraph.