Thousands of Scottish students await exam results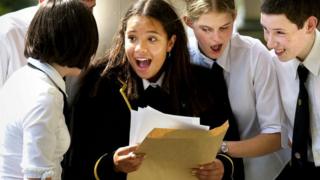 Thousands of students across Scotland are due to find out how they performed in their exams.
Almost 140,000 candidates will learn the results of their National 4 and 5s, Highers and Advanced Highers.
More than a third of students have opted to receive the news by text or email with the remainder being notified by post.
A free helpline is available on 0808 100 8000 for anyone seeking practical advice regarding their results.
Royal Mail has had planning teams working for months to make sure the delivery goes smoothly and have pledged to "pull out all the stops".
Education Secretary John Swinney acknowledged results day could be "exciting, scary and worrying all at the same time" and said it was vital that students had the right support available to them.
He added: "Moving on from school is an important and exciting step for young people. It's vital that they know what their real options are and how to access them.
"If you get the results you are looking for, then that is fantastic. If you do better than expected or don't get the grades you need this time round, then be certain that there are a huge number of options for you to consider and that there are a number of people available to support you.
"Whatever happens when the results come in, remember that it will be a beginning, rather than an end point and if you are not sure or are looking for some advice then please do use this free helpline."
---
Analysis by Jamie McIvor, BBC Scotland education correspondent
Exam passes are high by historic standards, more youngsters are staying on at school and going to college or university.
Is this a good thing in itself? Or is the education system simply having to adapt to the fact that in the modern world there are fewer good jobs for young people, and that unskilled jobs are disappearing?
---
A spokeswoman for Colleges Scotland said students should be proud of their efforts.
"Some may not have received the results they were hoping for and it's important to know there are a myriad of opportunities available should they look to a college route to develop their skills and progress towards employment or higher education," she said.
Scottish Labour leader Kezia Dugdale wished pupils good luck, and urged anyone worried about their results to call the helpline.
It will be open from 08:00 until 20:00 on Tuesday and Wednesday and between 09:00 and 17:00 until 16 August.
The helpline is being operated by Skills Development Scotland.
The group's acting director of operations James Russell said: "Our message for those young people and their parents and carers as the results arrive is not to panic.
"Everything might seem overwhelming at that point. Our experienced advisers are there to help and have information on all the options and opportunities young people can consider."