Ford to replace chief executive Mark Fields, reports say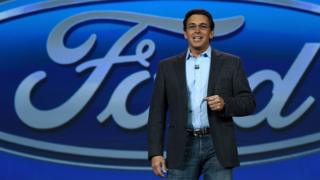 Ford chief executive Mark Fields is set to depart following a major reshuffle at the car maker, according to reports.
His expected departure, first reported by the New York Times, comes as Ford faces weak sales, falling profits and a near-40% decline in its share price since Mr Fields took up his role in 2014.
He may be replaced by James Hackett of Ford's autonomous driving unit.
A Ford spokeswoman declined to comment on the reports.
Last week, the carmaker said it planned to cut around 10% of its global workforce.
Ford employs more than 200,000 people globally at the end of 2016, including about 101,000 in North America and 23,000 in Asia.
Sales in April were down 7% in the US and 11% lower in Europe compared with the same month last year. The firm has also been hit by costs related to safety recalls.
---
Analysis
By Russell Hotten, business reporter
Mark Fields won't just be paying the price for a fall in Ford's US sales and a big slide in the share price over the last 12 months: he will be a casualty of the company's failure to prepare for the future.
Ford, which gave the world its first mass-market car, is witnessing the end of the internal combustion engine. Long-range electric and autonomous transport is tomorrow's technology, and the likes of General Motors, Toyota, and Volkswagen are ahead in the race to exploit it.
Last month Ford's stock market value fell behind Tesla, the electric car upstart that has never made a profit. It was a symbolic moment that underlines Ford's problems.
It's not that Mr Fields' has failed to pour billions of dollars into self-drive and ride-sharing experiments – it's that shareholders see little return in sight.
Recent reports of tense boardroom meetings, compounded by a tetchy annual shareholders' meeting earlier this month, probably explain why Ford chairman Bill Ford Jr has acted now.
Mr Fields' likely replacement, Jim Hackett, heads the division set up to accelerate Ford's foray into autonomous vehicles. Mr Hackett also has a reputation as a cost-cutter. Experience of both will be needed in the years ahead.
---
Last year Ford sold 6.65 million vehicles worldwide, while rival General Motors sold 9.97 million, according to Statista.
GM reported a record performance in the first three months of 2017, with revenue 10.6% higher at $41.2bn. It said its performance was driven by strong sales of trucks and SUVs in the US, along with cost cutting around the world and growth at its GM Financial arm.
Ford's revenue in the first three months of 2017 was $39.1bn, a rise of 4%.
At the time Mr Fields said the quarter was "an investment in Ford's future". The company launched new vehicles and he said it was "fortifying our core business, while also investing in emerging opportunities that will deliver profitable growth".
In recent years, Ford has been investing heavily in self-driving technology and ride-sharing services.