BP profits helped by higher oil prices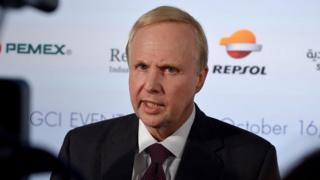 The recent increase in oil prices has helped BP to record a healthy profit for the three months to March.
The $1.4bn (£1.1bn) profit, on the replacement cost measure, compared with a $485m loss a year earlier.
Oil prices have been about 35% higher in the first three months of 2017 compared with a year earlier, boosting revenue from BP's core oil and gas production division.
BP chief executive Bob Dudley said: "Our year has started well."
He added: "BP is focused on the disciplined delivery of our plans. First quarter earnings and cash flow were robust."
Underlying replacement cost profit – the company's preferred measure – was $1.5bn compared with $532m a year ago.
And operating cash flow rose to $4.4bn from $3bn a year earlier
Reported oil and gas production was 5% higher than same period in 2016.
BP held the quarterly dividend at 10 cents,. Given the size of BP, the payout is watched closely by investors.
The London-based giant is set to begin eight projects this year – including in Oman and Azerbaijan – the largest number in its history in a year.
Meanwhile, it hopes to add 800,000 barrels a day of new production by the end of the decade.
"Rising production from new upstream projects is expected to drive a material improvement in operating cash flow from the second half of 2017," BP said in its results statement.